Nella categoria Application & Infrastructure.
Moresi.com è la prima azienda ticinese a ricevere questo prestigioso riconoscimento da Microsoft.
Moresi.com è orgogliosa di annunciare di aver conseguito il premio Microsoft Swiss Application & Infrastructure Partner of the Year 2021.
Il riconoscimento, consegnato nel corso della cerimonia di premiazione presso il Casinò di Lucerna, è stato assegnato grazie ai risultati ottenuti da Moresi.com nell'accompagnare i propri clienti in un percorso di crescita digitale basato sulle tecnologie Microsoft.
In particolare, sono stati riconosciuti i meriti di Moresi.com nel supportare i propri clienti nel processo di migrazione ad Azure e nella costruzione di integrazioni vantaggiose tra le soluzioni on-premise esistenti e il Cloud di Microsoft.
«Siamo davvero entusiasti di questo premio – afferma Nicola Moresi, CEO di Moresi.com – è un riconoscimento che arriva al culmine di due anni che ci hanno visto compiere una profonda trasformazione, con una crescita costante nel nostro rapporto di partnership con Microsoft. Il fatto poi che questo premio arrivi nel corso di una pandemia globale, ci ripaga dell'impegno che tutta la nostra squadra ha profuso per cercare di aiutare le organizzazioni ticinesi e svizzere affinché potessero continuare ad operare efficacemente in questo momento di crisi».
«Siamo i primi e gli unici partner Microsoft in Ticino ad aver ricevuto il premio Partner of the Year e questo non può che renderci orgogliosi – aggiunge Andrea Nazari, Director di Moresi.com – Microsoft ha riconosciuto la nostra capacità di comprendere a fondo le reali potenzialità del loro ecosistema di soluzioni, e di sfruttarle per soddisfare i bisogni dei nostri clienti, nell'ottica di una semplificazione dei processi aziendali, di una migliore comunicazione e di una complessiva riduzione dei costi»
«Un ringraziamento doveroso – conclude Nicola Moresi – oltre che a tutti i membri del nostro team che hanno contribuito a questo successo, va all'intero team di Microsoft Svizzera, senza il prezioso supporto del quale non avremmo potuto raggiungere i risultati che abbiamo ottenuto».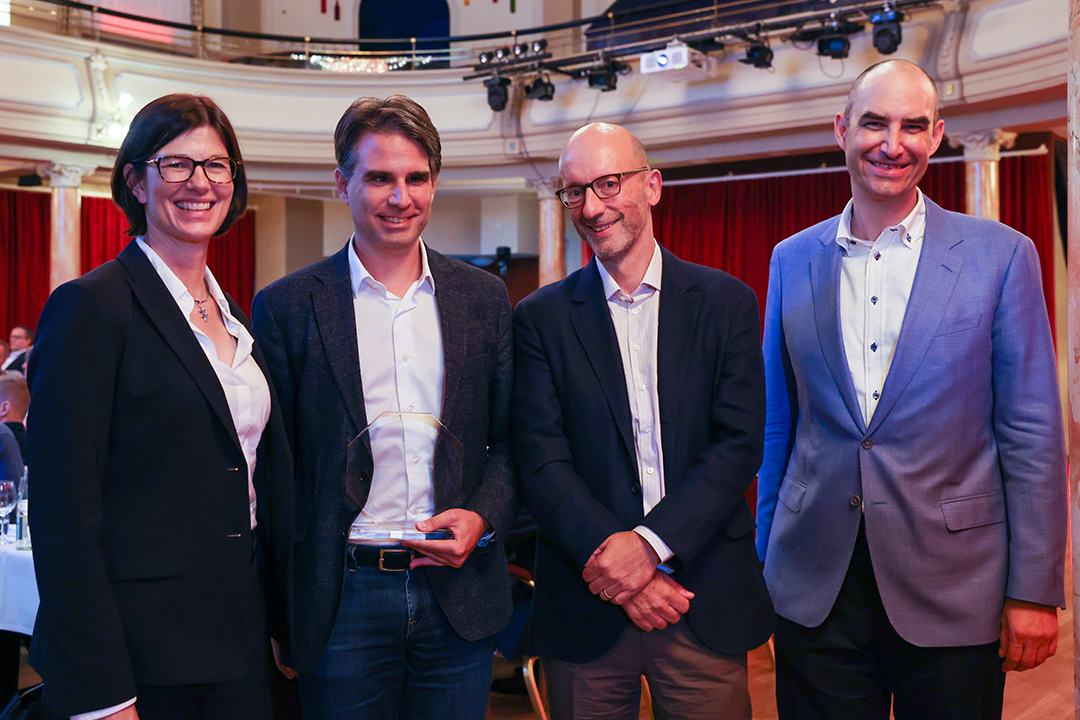 Da  sinistra:
Catrin Hinkel, Country General Manager at Microsoft Switzerland
Nicola Moresi, CEO di Moresi.com
Andrew Reid, General Manager Services & Support EMEA at Microsoft
Thomas Winter, Partner Sales Leader for Microsoft